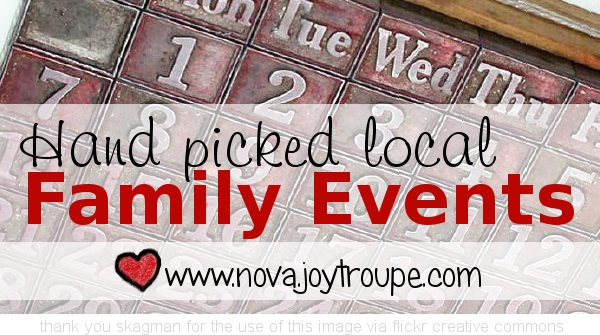 Our weekly Arlington VA family event and activity picks are brought to you by our Wee Play Together in Arlington Playgroup & Moms Group! We look forward to compiling these don't miss calendar ideas each week, so if you have a suggestion for next week's list, please send it in! I look forward to hearing from you.
---
Please consider helping AFAC meet local food assistance needs. You can
read more about increased demand here
.
---

Friday, February 14 5:30-9:00 pm
St. Michael's Episcopal Church 1132 North Ivanhoe Street Arlington, VA 22205
Don't miss the Valentine's Day Children's Evening Out! Your kids will have fun in a safe, creative environment while you enjoy some grownup time. Enter our pass giveaway and you could win one of four passes. Thank you to The Creative Difference for sponsoring this giveaway! Get the details and enter here by 2.12.14!  Don't forget to check back and collect your daily bonus entries. I hope you win!
---
If you didn't win our Diseny on Ice giveaway, you may be interested in these ticket discounts. Currently listing tickets for Thursday, February 13 at 7:30 pm. These sell out and are added continuously through the run of the show, so if you don't see something that works for you, check back. Price including fees is $22.00, regularly $31.00 plus ticketmaster fees. On a recent visit to the Verizon Center I saw it posted that everyone 2 & up needs a ticket for Disney shows at that location. (Event parking was $27 or you can take Metro.)
---
Sunday, February 2nd, 2014 12:00 pm – 5:00 pm
Gallery Place 616 H St NW Washington DC 2014
Washington D.C. Celebrate the Year of the Horse with performances, a marketplace, spectacular lion dance, kids crafts and much more! Plus enjoy the parade from 2 to 4:30pm. Free admission.
---
Saturday, April 5 2014
St Andrew's Episcopal Church 4000 North Lorcom Lane, Arlington, VA 22207
Over 100 consigners participate in each sale. We offer a wide selection of seasonal kids' clothes and shoes, toys, books, movies, large and small equipment, strollers, bicycles, maternity clothing and lots more! After nearly 20 years, this consignment sale is trusted by many of our regular customers as a well-organized, reliable source of all kid-related items! Due to stairs and tight spaces, strollers are not allowed at the sale.