When: Thursday, May 2, 2013 from 10:00 AM to 1:00 PM (EDT)
Where: River Farm Park
7931 E Boulevard Dr
Alexandria, VA 22308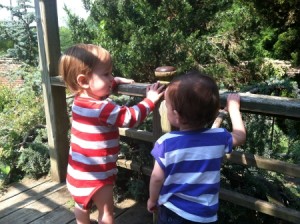 You and your children will adore exploring this completely charming, hands (and feet!) on children's garden. There are shady spots for relaxing, dirty spots for digging, and lots of (labelled!) plants and flowers to learn about, plus plenty of bugs to watch and grassy paths to run along.
Pack a picnic, sun protection, and your camera and come join us!
Thank you for being here! People like you make our group go!
The Joy Troupe NOVA Moms
get the very best Mom News in their inboxes every week! Our members get priority invitations to our awesome FREE family events and group discounts, too. We have so much fun, and we are looking forward to getting to know you and your family!
(Membership is always free!)
As a bonus, you'll also get to download our 2009 cookbook e-version FOR FREE!