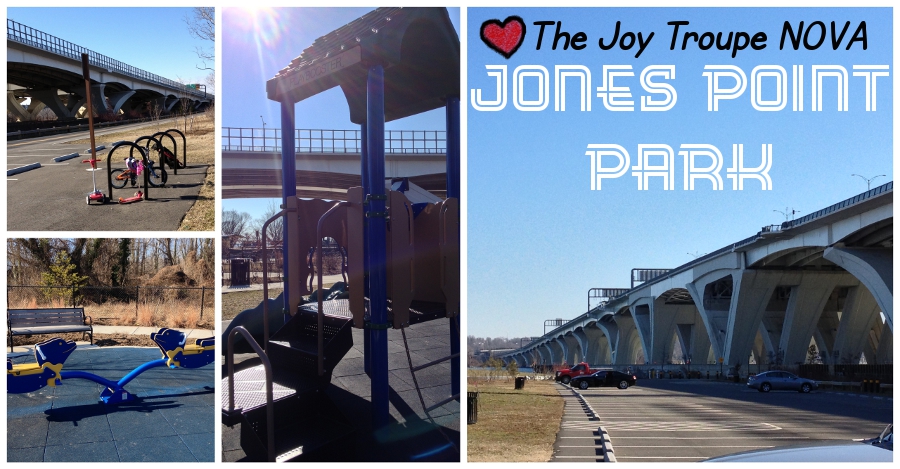 The Jones Point Park playground (100 Jones Point Dr, Alexandria VA) is compact and to the point. Lots of pathways allow little beginning riders to loop the park without interfering with play,  soft rubber surfaces under play structures cushion falls, and interesting, sturdy, safe equipment will be the perfect foil for any imagination. The play equipment is challenging enough to encourage running, climbing, and jumping, but accessible to even the littlest children. The swings are on one side of the park and the play area is on the other, allowing you to catch your toddler before he walks into the moving swings. Ample seating is provided by benches that are close enough to supervise play. There is absolutely NO shade on the play area. In a few years, the trees will get some height on them, and you'll be able to find shady spots, but for now, it's hot. Time your visit accordingly, so nobody gets burned on the equipment. The play area is completely enclosed by chain link with a gate. There is ample parking right outside the playground area, for bikes as well as cars. You can access area hiking routes from within the park or via a short hop within the walkable neighborhood at the park entrance.
The park surface and the access is level and smooth, and clearly you can't beat the view. If the eqipment gets too hot, you can cross the parking lot and run, picnic, or ride bikes under the shade of the overpass. There is a breeze off the river that makes this park cooler than places farther inland, even on really hot days. It's unbelievably refreshing.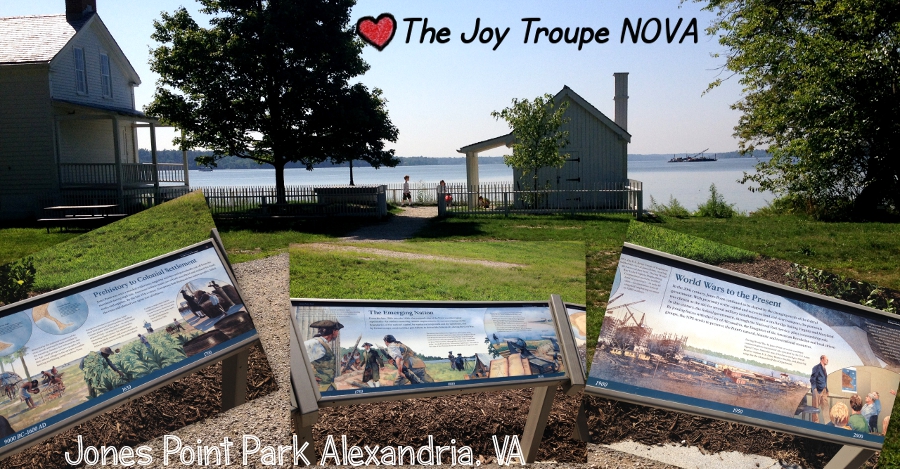 There are also level, stroller friendly trails at Jones Point Park. The surface is mostly gravel and there is not a lot of cyclist traffic- most cyclists stick to the bike path that also runs through the park, leaving the pedestrian paths to slower traffic. Most of the trail is shady and there are a bunch of educational stops along the way.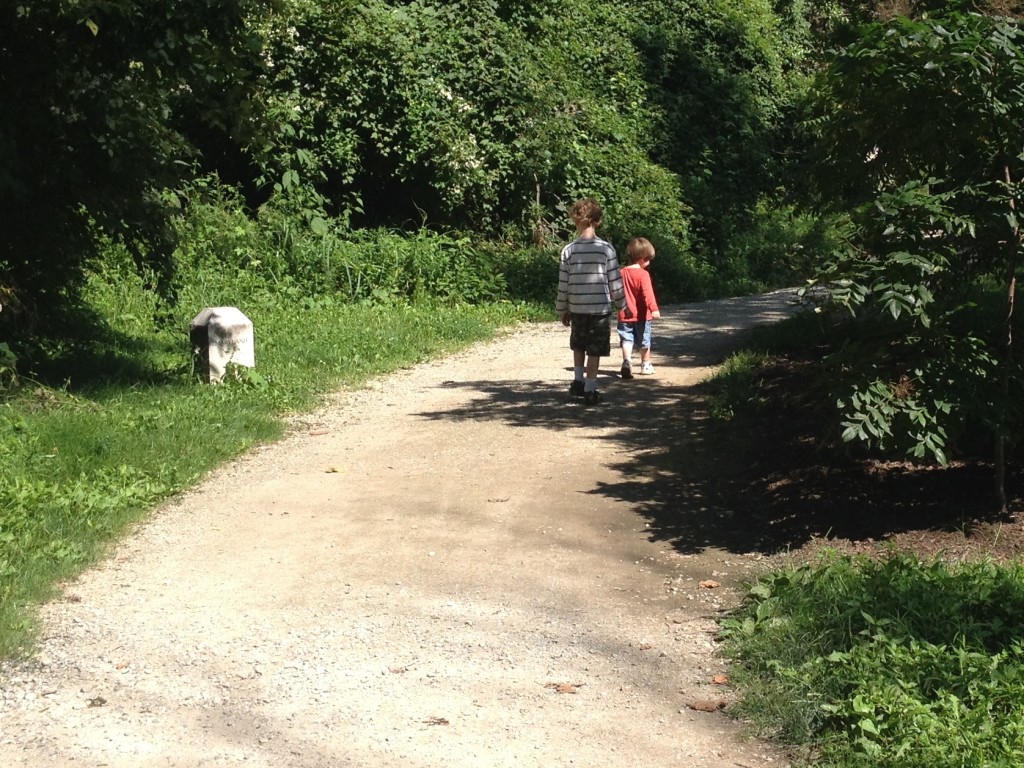 Jones Point Park Family Hike Stroller Trail Info
Trail surface: Mix of paved, mulch, and gravel
Freedom Coded: Mostly yellow, but red near the dock area. There is a steep drop off at the river edge that deserves appropriate caution, since there are pieces of broken concrete with twisted metal bars sticking out of them visible in the shallows nearby- probably wreckage from the old shipworks, and certainly dangerous enough to harm someone who fell in.
Double stroller accessible: Yes, very! Broad and level.
Stroller type: The gravel may be tough on some regular strollers, but most should be able to handle this trail just fine.
Distance: .7 miles of total trail distance, in a shape that allows for a figure 8 loop with a higher total walking mileage.
Loop: yes. (Figure 8 style)
Shade cover: Mostly shade, but some areas of full sun.
Restrooms: very nice ones in a building under the bridge, opposite the big playground.
Parking: ample, near the playground. Use caution with the pedestrian crossings, as not all drivers obey the posted speed limit.
Getting There: 100 Jones Point Dr, Alexandria VA
Also along the walking trail is a second, smaller playground and some cute, embedded wildlife footprints, and historic boundary markers. (Stand in Virginia and the District at the same time! Fun!)