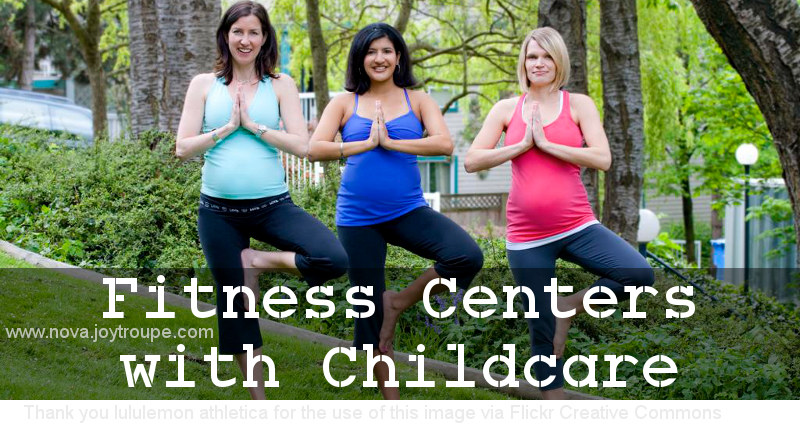 What should you do when you don't know the answer to a mom-related question in Northern VA? ASK YOU GUYS.I have never seen such wonderful people about hooking each other up with information, help, hand-me-downs, or whatever else is needed.
Several of you hooked each other up with this list of area gyms that offer childcare. I am sure there are MANY more, which is why I've added a submission form so you can add them directly to the list- or you can just add them in the comment box down there, of course! Thank you all for helping put together this list and, most of all, thanks for being so awesome! Keep it up!
Fitness Centers with childcare
Fitness First Alexandria Alexandria VA


---

Gold's Gym Alexandria, Falls Church, Lorton, and Lake Ridge locations


---

LA Fitness Alexandria, Arlington, Falls Church, Leesburg, Sterling, and Manassas, Pentagon, and Woodbridge Locations


---

Local Motion Studio Alexandria VA
Offers mostly yoga, plus children's classes and workshops. See site for full schedule.

---

McLean Raquet and Health Club McLean, VA


---

Mt Vernon Athletic Club Alexandria VA


---

One Life fitness Burke, va
This gym has a great childcare space, with a play climber, and a basketball court. As well as other Activitys. They also have a kids pool that is open from opening to 1 hour before close.

---

PB & Jack ($) Fairfax, VA
Yoga and pilates, also children's classes, free play, and parties.

---

The Energy Club Arlington VA
"the only independent locally owned health club in the Shirlington community"

---

The N Zone Chantilly, VA
Gym with child care, offers classes and camps for children and youth

---

Washington sports in Springfield Springfield, VA
"Washington sports in Springfield has child care and the staff are very friendly & trustworthy. The kids always have fun too. "

---

XSport Alexandria, VA


---
Did we miss yours? Add it to our list!