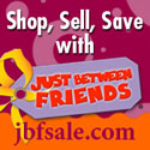 I am VERY sorry, but there have been some changes to the JBF Loudoun pass giveaway. I HATE changing things and it seems very unfair to do so in the middle of the giveaway, BUT, here's the thing. Facebook has deleted the Facebook pages of some people who had "likes" that came from contest entries. They have now released statements saying that allowing page "like"s to be used as contest entries violates their TOS. We certainly don't want JBF Loudoun to have any trouble with Facebook, so I have removed the Facebook page "like" option from the giveaway and added one for entering text you find on their website, instead.
And, as an apology for the mixup, you can have a bonus entry for entering "I love to save" in the bonus entry that asks for the phrase from this post. GOOD LUCK.
Looking for more fun things to do? Check our Playdate calendar or volunteer to host a playdate near you!
Thank you for being here! People like you make our group go!
The Joy Troupe NOVA Moms
get the very best Mom News in their inboxes every week! Our members get priority invitations to our awesome FREE family events and group discounts, too. We have so much fun, and we are looking forward to getting to know you and your family!
(Membership is always free!)
As a bonus, you'll also get to download our 2009 cookbook e-version FOR FREE!