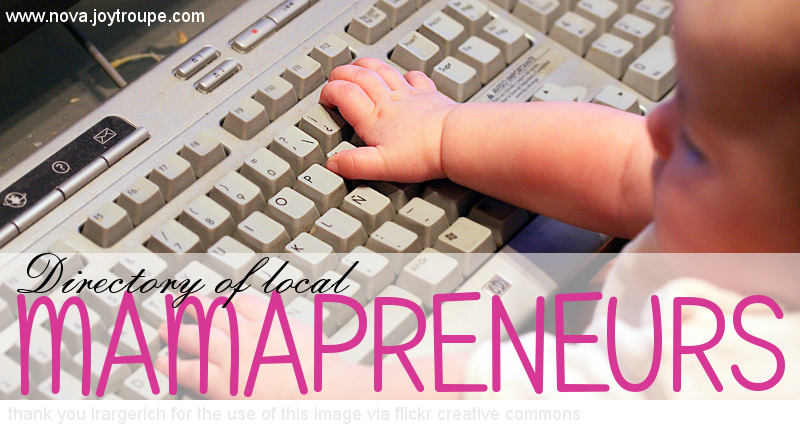 We love having the opportunity to get the word out about local, mom owned businesses! Are you a consultant? Do you own a business? You can list your business with us in our directory. We choose one business every week to feature. If you're not listed, it definitely WON'T be you, right?
Are you looking for other ways to get the word out about what your business has to offer? Check our list of local free PR Outlets! They'll help make your marketing budget go farther.

Welcome to our Mamapreneur Directory! Is your listing missing? Be sure to add it!  YOUR LISTING IS ALWAYS FREE! Want more visibility? Place an ad.
(PS- is your business in the District? Submit it to our Washington DC directory instead.)
---

Abby's Lane
VA / DC / MD and online
The Northern VA Cloth Diaper Meetup will be our local resource center going forward after our storefront has closed in April of 2013, this group will include lots of playgroups, babywearing and cloth diaper resources, stop by and visit a session! Contact Nicole at Novacloth@gmail.com for more details

---

All Heart CPR Training
Northern Virginia and Beyond
All Heart teaches CPR, First Aid, Medication Administration, and Emergency Preparedness to families and businesses. Our approach is unique, because we cater to you and your needs. I am the mom of 5, oldest sibling to 11, and a nurse. I understand the desire for families to be able to take care of each other. We offer a Mommy & Me CPR Social that invites moms to bring their kids along. No need to find a babysitter. Our Bundle of Joy CPR Social is the perfect addition to any baby shower, or can be used as a baby shower gift. We provide you with up to date information on issues that are relevant to your life.

---

Around Reston
Reston, VA
We cover resources, activities, events, tips and more focused Around Reston! Soon to be released - 4 special interest hard copy publications delivered to over 20,000 homes in Reston!

---

ASAP Sitters
Provider match service, DC Metro Area
As an award-winning professional babysitter referral service for the DC Metro region, ASAP Sitters is committed to high standards for childcare. Our sitters undergo an extensive screening process to ensure that the sitters we refer are trustworthy, experienced, and reliable. We specialize in sitters for occasional, short-term, vacation, and event childcare. ASAP Sitters is mom-owned, licensed, and insured and has been serving the DC Metro area since 2008. Whenever you need one we will find a great babysitter for you ASAP!

---

BellaChic Luxe Bridal
13895 Hedgewood Drive, Suite 341, Woodbridge, VA 22192
BellaChic Luxe Bridal is the newest bridal boutique in Prince William County. Located at the bustling intersection of Prince William Pkwy and Minnieville, we offer beautiful gowns for the bride and bridesmaids, veils and accessories. BellaChic Luxe is by appointment only and an appointment is required. Contact us at brides@bellachicluxe.com or 571-264-3609.

---

Briana Inell Photography
Lorton, VA
Premier photographer serving DC, MD and VA specializing in newborn and child portraiture.

---

Bumblebee Home Daycare
Alexandria, VA
In-home family daycare for children age 4 and under, located off Route 1 between Huntington Metro and Fort Belvoir. Qualifications include: *10+ years of childcare experience, from birth to 9 years old *permit from Fairfax County's Office for Children *trained and certified in CPR, First Aid, and the Heimlich Maneuver for infants, children, and adults *Child Development coursework in college

---

Choose to Thrive, LLC
Falls Church, Virginia
Counseling for individuals, couples, teens and families. Specializing in blended families, adoptive and kinship families and those contemplating adoption. Individuals suffering from anxiety and or depression and grief and loss. Couples or women suffering from infertility issues, pregnancy loss, issues surrounding a complicated pregnancy. Falls Church office with convenient hours.

---

Christine Frazee - Barefoot Books Ambassador
n/a
Kick off your shoes and go Barefoot! I'm so excited to share these awesome books and gifts from Barefoot Books with you. To see the entire collection, visit my website, and browse all the great items Barefoot Books has to offer.

---

Cook S'More with Jen DeVore
Northern VA or order online
Join us at Cook S'More – your Pampered Chef Store. Host a party today to Learn2Cook healthy fast meals your family will Love! Ongoing discounts to Joy Troupe Members!

---

Creative Kids Kitchen
Arlington, VA
From the time he was big enough to sit in his Bumbo chair on the counter, my son Miles has helped me in the kitchen. Sometimes, cooking together was one of the only things that got us through long, fussy winter afternoons before Dad got home. As a full-time mom of a toddler and a baby, I am forever looking for new activities that are educational and fun. As I searched for a place where Miles and I could share our joy of cooking with other moms and kids, I discovered that Northern Virginia lacks cooking classes for preschoolers. Shortly thereafter, I began offering weekly sessions out of my North Arlington home.

---

Engineering for Kids
Northern VA
Engineering For Kids brings science, technology, engineering, and math (STEM), to kids ages 4 to 14 in a fun and challenging way through classes, camps, clubs, and parties. We are proud to inspire children to build on their natural curiosity by teaching engineering concepts through hands-on learning. Engineering is, after all, one of the fastest growing industries in the world!

---

Fit4Mom PWC
Prince William County VA
Fitness and fun for moms of all ages and stages. We are not only a stroller fitness group. If you are pregnant with your first child a mom with school aged children or even a grandmother, we have programs for YOU!

---

Great Play of Fairfax
Fairfax, VA
Fantastic Classes for All Ages! We have award winning programs for ages 6 months to 5th grade. Sign up now to get your preferred time.

---

Heavenly Blessings Gift Baskets
Woodbridge, Virginia 22191
Specializing in creating memorable gift-giving experiences that make an everlasting impression with our all-occasion, holiday, and themed Christian/inspirational gift baskets

---

Jaana Pauls, Rodan + Fields Consultant
Alexandria
Rodan + Fields is a new line of skincare from the doctors who brought us Proactiv! It was the #1 selling skincare line while in high-end department stores, but us moms know that with on-line shopping, twitter, facebook...times were a changing. And, R+F knew that too, so they left retail and now are changing lives, and changing skin through direct sales. The products are phenomenal, something for everyone (everyone has skin, right?), and the business is top notch. They've taken all the great things about other direct sales companies, and combined them all into one, without all the negatives! I did my research, I was that skeptic, and I'm loving it! Would love to tell any of you mom's out there, more about the products, more about the business, and I love to do it over coffee! We recently moved to the area, so any excuse to meet new people works for me!

---

Jessica Monte Photography
Brambleton, Virginia
We are a photography studio based in the Washington D.C./Northern Virginia and Loudoun County region. We photograph professionals, newborns, babies, children, high school seniors and their families from all around the Washington D.C. metro area. We specialize in lifestyle and studio portraits with a goal to create timeless, beautiful photographic wall art for our clients. Our goal is to capture your big moments and to make them last a lifetime. Jessica Monte is a member of the Professional Photographers of America and has had her photography featured in national and international publications.

---

Katarina's Paperie
Alexandria
We are a small online party boutique featuring custom printed designs, charming party accessories and event styling services. We specialize in helping parents host memorable events for their kids including birthday parties, playdates and other special celebrations. Our goal is to make hosting the celebration easy and fun, allowing you to enjoy making memories and spending time with your children.

---

Kid Trips Northern Virginia Edition
online
Expert parenting writers from DCMetroMom.com and SuperNovaMommy.com come together in a new must-have book for families living or traveling in Northern Virginia. This extraordinary resource provides useful information and secret Insider Tips for hundreds of family-friendly destinations, kid activities, and parenting resources. Want to avoid the crowds, find a nearby restaurant, or know which routes are stroller-friendly? You'll find all that and more in the book's local Top Picks including best consignment shops, great birthday parties, best toy stores, places to ride trains, favorite tea party spots, and more. And, because the fun doesn't stop at the shores of the Potomac, there are recommendations for the best Seasonal Events and family-friendly trips to nearby Washington D.C., and Maryland too. Whether you have tots, tweens or teens, Kid Trips Northern Virginia is the guide your family will come back to over and over again! Available now on Amazon, Kindle, Nook, and Createspace and coming soon to iBooks!

---

Kissable Canine
Northern Virginia and DC
We are an award-winning training company offering private, in-home training & behavior services, creative learning workshops and classes. Explore the website and our offerings. Should you have any questions don't hesitate to call us at 703-574-3383.

---

Law Office of Rebecca Geller
Fairfax Station, VA
As the mom of two young boys, I am an attorney who understands the craziness of parents' schedules and strive to make wills, trusts, and guardianship documents accessible for everyday families. The Law Office of Rebecca Geller works with families in Virginia and D.C. to draft wills, trusts, guardianship and power of attorney documents, living wills, and customized legal estate plans. We work with your schedules and offer phone meetings with clients in the evenings after your kids go to bed — as well as during the day — to accommodate busy schedules. We also serve as general legal counsel to small businesses, especially woman-owned or family businesses. We help businesses get started, draft or revise operating agreements, client contracts, vendor or contractor agreements, non-compete/confidentiality provisions, trademark application, and other legal needs.

---

Leslie Borkenhagen - Independent Stylist for Stella & Dot
Alexandria, VA
Luxurious, affordable boutique-style accessories and home-based entrepreneurial opportunities for women. Stella & Dot is a company inspired by and created for strong women - just like you.

---

Macaroni Kid Woodbridge
Woodbridge, VA
Macaroni Kid is a free weekly e-newsletter and website with all the family friendly events right here in Woodbridge. We also have recipes, crafts, articles and giveaways and we put it all in one place so you don't have to spend your time looking for things to do, you can just go out and do them! http://woodbridgeva.macaronikid.com/subscribe/

---

Magical Memories Travel by Kendra
Haymarket, Virginia 20169
Magical Memories Travel is a full service travel agency specializing in Disney Destinations. Have you always wanted to take your kids to Disney but with all the information online can't figure out the best way to do it? I can help, I specialize in Walt Disney World Resort, Disney Cruise Line, Adventures by Disney, Aulani, and Disneyland Resort for families with young children and first time visitors. Even if its not your first time I can help, I can save my clients up to $1500 versus booking themselves with special deals and offers from Disney.

---

Mary Kay Beauty Consultant - Melissa Tingen
Woodbridge, VA
As an Independent Beauty Consultant with Mary Kay, my goal is to provide my customers with personalized service. As an expert in skin care, I am able to tailor a skin care regimen for each customer based on their particular needs. As an Advanced Color Consultant, I am able to recommend customized color products that will suit their individual preferences. I love being able to offer outstanding customer service backed by a 100% Satisfaction Guarantee. I love helping women feel beautiful, whether it is at a Mary Kay party or at an individual pampering session.

---

Mary Kay Beauty Consultant-Ashley Harris

As my customer, you can create your ideal beauty experience. I offer personalized service that fits you. Just tell me if you'd like a one-on-one consultation, a party with friends, makeup tips, skin care and advice. If you prefer to shop online only or order by e-mail or phone, the choice is yours. I appreciate and understand your busy schedule, so let's work together in making you look and feel great! I'd love to help you with any or all of your beauty needs. Let's talk!

---

Mary Kay Independent Beauty Consultant- Kerlange Nelzy

I am excited that you chose me as your Independent Beauty Consultant with Mary Kay. Please take a look at the ECatalog and let me know which products you would like to try. My number one goal is to make sure you are completely satisfied with your Mary Kay products. I will work with you one-on-one to make sure you are getting the results you deserve. Please let me know if you'd like a party with friends, makeup tips, skin care advice, or free samples. If you prefer to shop online only or order by e-mail or phone, the choice is yours. I'd love to help you with any or all of your beauty needs. Thank you for your great support.

---

Mes Premiers Pas en Francais
Ashburn, Sterling, Lessburg
Classes are primarily based around interactive play through the use of puppets and felt board figures but also include singing and story telling to keep children involved in the class. Classes with older children also include craft time, flashcards, matching, and sorting activities. All of the classes are total immersion, theme-based and taught by a native speaker.

---

Michelle Yin Photography
Alexandria, VA
I'm Michelle and I'm a Virginia + Destination Portrait and Wedding Photographer based in Alexandria, VA. As a passionate photographer, I photograph the way they make me feel, not just the subjects. So it is always important for me to get to know my clients through a pre-session consultation and discuss my style and method. I understand how frustrating it gets when looking for the perfect photographer for your precious newborn, your annual family shoot, or the most special day of your life, because those moments are truly fleeting. The tip I can share is that ignore the technical aspect of the photographer (hey, all professional photographers know how to generate a perfectly focused and properly exposed photo), instead, ask yourself: do I feel the photographers' excitements and joys when a genuine moment is captured? As a natural light photographer, I strive to create a unique experience that is tailored for each client. It never excites me to shoot generic poses that people find everywhere on face book page, magazines or blogs. Those are pretty, but not unique. My heart always melts for tender moments like a new mom tries to calm her baby, the smile a-baby-kick put on the mom's face in the maternity session, or when parents chase after their little munchkins for a perfect pose! If that's also what you are looking for, contact me and let's plan together!

---

Mission Sleep
DC & Baltimore Metro Areas
Mission: Sleep, the non-profit arm of Let Mommy Sleep, delivers free overnight infant care to military families with a partner who is deployed, wounded, or deceased at time of baby's arrival. Mission: Sleep has been featured on such national news programs as the America's News Headquarters on Fox News and has been featured locally on NBC-4 Washington DC, News Channel 8 and WTOP radio programs. To date over 4,500 hours have been awarded to deserving military families. Mission:Sleep is a 501(c ) (3) charity.

---

Music Together of Vienna
Vienna, Virginia 22182
Music Together is an internationally recognized early childhood music program for babies, toddlers, preschoolers, and kindergarteners, and the adults who love them. We offer Northern Virginia locations in Vienna, Fairfax, Reston and Herndon.

---

Music With Maddy
Falls Church Community Center
Music Together® is a community of families sharing songs, instrument play, rhythm chants, and movement and dance activities in a relaxed, playful, non-performance oriented setting. Maddy's classes for preschoolers and their parents and/or caregivers are available at the Falls Church Community Center. Maddy's Program Voted "Best Toddler Class" by readers of Northern Virginia Magazine in June 2009 issue!

---

Noelle Mullins Design
Herndon, VA
Noelle Mullins Design provides modern and affordable graphic design solutions to small businesses with an emphasis on bold, clean, and colorful style. Noelle can help elevate your business by designing beautiful materials that will get you noticed!

---

Our Kids

Our Kids is your one-stop website for family fun in the greater metro DC area! From consignment sales, festivals and summer activities to nature centers, classes for kids and parent-written reviews there is something for everyone. Besides the informational public website, Our Kids provides a members-only service, offering families the following benefits: Access to a comprehensive, easily searchable/sortable online database of local activities & events (700+ per week!) A weekly e-newsletter containing a calendar of events, top picks & performance listings in DC/MD/VA Members-only giveaways, contests, free tickets to advance movie screenings, etc. Members-only access to pre-sale codes and discounts for the area's top events. For further information and to sample an Our Kids e-newsletter, please visit http://www.our-kids.com/site/whyok/. You can also visit Our Kids on Facebook (www.facebook.com/ourkidsdc) or Twitter (@ourkidsdc) Our Kids is Your Link to Family Fun!

---

Pampered Chef by Leslie
Fairfax, VA
Pampered Chef carries lots of great, reliable kitchen tools. There are many wonderful products to choose from. Contact me for any questions and the latest specials!

---

Pink Zebra

We sell wickless candles, soy wax that goes in the warmers called Sprinkles, kitchen soaps and lotions

---

SOUPerior Organzing
Alexandria, Virginia 22312
Residential Professional Organizing services. From the messy desk to extreme clutter, SOUPerior Organizing has seen it all. We have experience organizing, packing, and unpacking single rooms, entire houses, and offices. It can be overwhelming to try to take on your own space but we can make it easier by helping you decide where to start, what should stay, what should go, and where to put it all. We work with you to develop a personalized plan to get you organized and keep you that way long after we are gone. There is no reason to be shy or embarrassed about asking us for help. We are compassionate, responsible, and professional.

---

Sweet 2nds
Internet only
Sweet 2nds™ is on a mission to help moms across the country find clothes for their little fella. So we designed our Internet consignment business to offer stylish boy clothing at affordable prices. The site is designed to make it quick and easy to locate each item by size and article so you can see exactly what offerings are available.

---

Thirty One Gifts Katie Ogle
Burke, VA
Thirty-One is a direct sales company that features adorable purses, totes, and organizing solutions. Shop a different special every month, and hostesses receive special benefits, including 1/2 items, hostess exclusive items, and credit toward FREE product!

---

Thirty One-Brittany Doty
Alexandria VA
Thirty One has very innovative fun purses, bags and wonderful storage for women and girls! It is a very creative company with tons of different designs to appeal to all ages! My name is Brittany and I am a sales consultant with the company. I love this product!! I am a stay at home mom who has fun parties in my spare time! We are able to do Mommy and Me parties which is so fun to bring the kids along and have a good time or we can do weekend or evening parties and have some fun shopping and adult time! Please feel free to call me, email me or visit my website to find out information on hosting (which has amazing benefits) or just on ordering that special bag or purse for the summer!

---

Thirty-One Gifts: Rebecca Gabriel

From our signature purses and totes to storage solutions that help organize your life, you'll find something to fit every personality and situation. Each season, we develop new products built on the idea that our products must be functional AND fashionable (and, of course, make great gifts!). Celebrate, encourage and rewarding women!

---

Thirty-One Gifts: The Sassy Purse Lady
Alexandria, VA
I am an independent consultant for Thirty-One. Thirty-One is a great company that sells totes, purses, bags, bins, organizational items and more! There are many fabrics to choose from as well as being able to add personalization to almost every item. We have a special deal each month! Book a party to earn awesome hostess perks!

---

Time for a Walk, LLC
2219-A N. Columbus Street #302 Arlington, Virginia 22207
Time for a Walk, LLC is a licensed, bonded, and insured professional dog walking and pet sitting company serving Arlington, Alexandria City, Falls Church City and select areas of McLean, VA. We are comprised of an employee based pet friendly staff with extensive training and experience in caring for pets of all kinds. Our pet caregivers treat each dog, cat, fish or any other pet as they would their own pet- with love and respect. To keep our clients informed about services performed, each dog walk or pet visit is concluded with a hand-written note describing the dog walking / pet visit highlights and any notable observations related to the health and well-being of your pet. rnWe are certified by the Red Cross in pet first aid and are members of the National Association of Professional Pet Sitters (NAPPS), Pet Sitters International, and the Northern Virginia Professional Pet Sitters Network

---

YourCore Pilates

YourCore Pilates is a SAHM-owned company that offers affordable Pilates and Yoga classes at two locations in Fairfax: Twinbrooke Shopping Center/Braddock Rd and Franklin Farm/Herndon. Free trials available to any new student. See our schedule on our website at www.toneyourcore.com. Bring a friend and come try it!