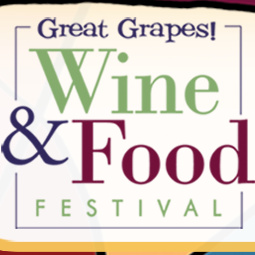 If I say the words "wine festival," you probably go straight to "GROWNUPS ONLY." While it's possible that you would enjoy your visit a great deal more as a Moms Only outing, the Great Grapes Wine Festival in Reston VA had plenty of family fun on offer.  Virginia Wine Country has a lot to offer your family outings, and this festival was a great place to learn more about it.
This weekend's Reston Great Grapes festival was awash in families with strollers or wagons learning about Virginia wineries, sampling barbeque, and listening to live music. (If you missed it, mark your calendar for the one coming up this weekend at National Harbor.) Unfortunately the rain made it difficult for me to get many photos for you all, but I promise I scoped the place out thoroughly. (Really, ever try to hold a camera steady while also holding a wine glass and an umbrella? Because apparently I'm terrible at it.)
M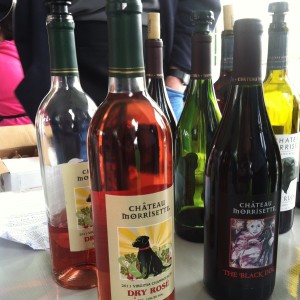 y kids would have adored to sample a plate of barbeque and then make their own spice rub at the barbeque pavilion. For $1, you got a bag and a recipe and could go around the bins of bulk spices and use the provided measuring spoons to create your rub. Not just a perfect kid friendly activity, but one that helps them build their taste buds when they later eat what they made. They'll be learning about flavor combinations and becoming the great cooks of tomorrow. (If you've ever seen my family eat, you'll realize how important that is to me!) (This activity was provided by http://www.captainthoms.com/. Unfortunately they've told me they will "probably not" be there in the fall, but I'm sure whoever takes their spot will come up with something fabulous.)
The stage had live music continuously throughout the festival. (Do I really need to say more than that?) There was also plenty of delicious food on offer, and if your kids didn't want any of that, the location was in Reston's Town Center, which is packed with restaurants of every description. My personal favorite mental image from the afternoon was the mom who brought her two boys, togged out in their boots and raincoats, to the fountain to play a bit on a rainy afternoon. (I bet you can do that anytime, but the festival atmosphere didn't hurt at all.)
Great Grapes will be back in Reston this fall. Put it on your must do list. A tasting ticket will run you about the same as you'll pay for a tasting at some of the local wineries, but you'll have the chance to sample and get information about a dozen or more local wineries to help you plan your future visits. While you're there, talk to the winery staff- they'll tell you that you'll see families picnicking and enjoying their winery events pretty much every weekend of the year. And, if you're also a history buff (like my family!) be sure to check out the Virginia Wine Civil War passport. While you're at it, visit VA Retreat and print out a Civil War History passport the kids can use to earn a commemorative patch.
Looking for more fun things to do? Check our Playdate calendar or volunteer to host a playdate near you!
Thank you for being here! People like you make our group go!
The Joy Troupe NOVA Moms
get the very best Mom News in their inboxes every week! Our members get priority invitations to our awesome FREE family events and group discounts, too. We have so much fun, and we are looking forward to getting to know you and your family!
(Membership is always free!)
As a bonus, you'll also get to download our 2009 cookbook e-version FOR FREE!